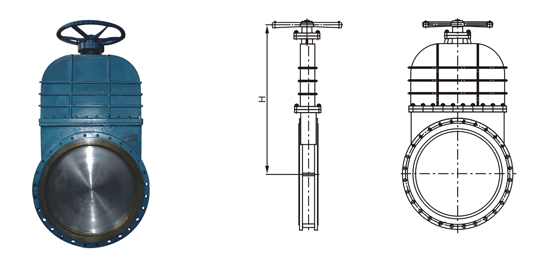 Product Description
This product is our latest development of knife gate valve used for sewage treatment, which is featured by compact structure and light weight. No matter it is opened or closed, the height of valve keeps unchanged, which has saved installation space considerably, so that it can be installed and used indoors.
Features
Low height, light weight, and economy of material.
Small installation space and great suitability.
Use of float seal, an environmentally friendly knife gate valve of superior performance.
主要外形及连接尺寸(mm)
| | | | | | | | | | |
| --- | --- | --- | --- | --- | --- | --- | --- | --- | --- |
| 公称通径DN | 500 | 600 | 700 | 800 | 900 | 1000 | 1200 | 1400 | 1600 |
| 高度H | 1014 | 1201 | 1357 | 1480 | 1550 | 1950 | 2280 | 2660 | 3100 |